AstroDMx Capture
Deep Sky Astronomy Image Capture Application
Linux • RPi • macOS • Windows • ChromeOS
What is AstroDMx Capture?
AstroDMx Capture is a cross-platform astronomical image capture application developed on Fedora Linux and now ported to the Raspberry Pi OS (32 and 64-bit), macOS, Windows 10/11 and ChromeOS running under the Crostini virtual environment.
Nicola Amanda Mackin started the AstroDMx Capture project in 2017 to produce a stable astronomical imaging application for use with the Imaging Source DMK, DFK and DBK range of cameras. Since then, the project has grown into a fully featured astrophotography application, which now supports many specialist imaging devices.
The software supports some of the most popular astronomy cameras, together with ZWO motorised filter wheels and also UVC devices. It also supports various capture cards, which, for example, allows the use of frame integrating analogue video cameras. As of version 2.0.2, support now includes INDI mount, camera, focuser and filter wheels.
AstroDMx Capture is an on-going project and additional functionality will be added as it evolves.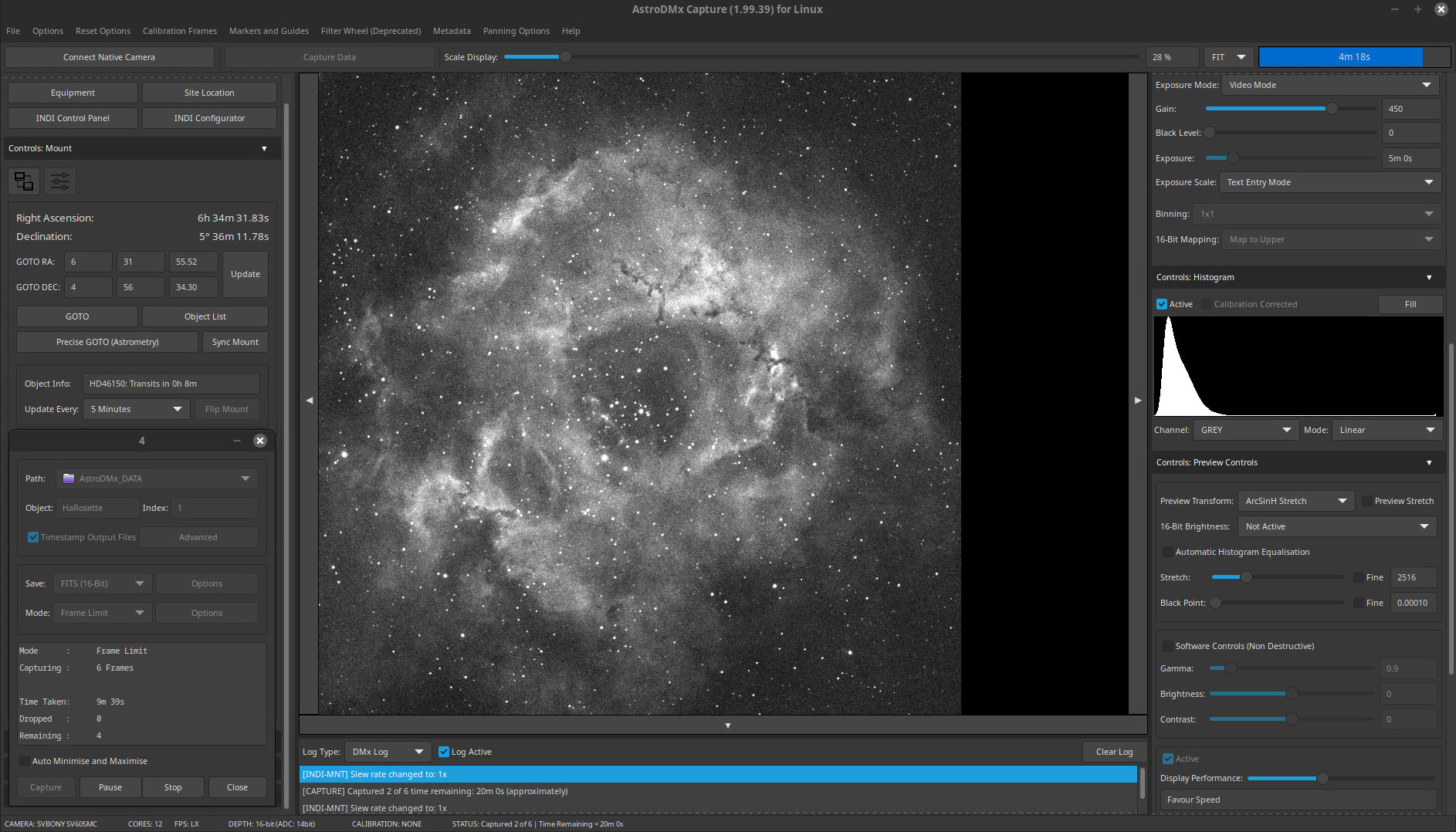 Summary of Supported Hardware
The following is a summary of the hardware supported by AstroDMx Capture. In the future, the application will support the INDI / INDIGO framework which will significantly expand the range of supported hardware.
INDI Mounts
INDI Focusers
INDI Filter Wheels
INDI Cameras
OGMACamera
Player One
Altair
Omegon
Touptek
Bresser
Imaging Source
ZWO
QHY
Atik 16-bit
DSLR
SVBONY (All cameras)
Lumenera USB2 and USB3 (Windows)
Lumenera USB3 (Linux)
Many UVC compliant Webcams and Capture Cards
ZWO Filter Wheels
For more detailed information about AstroDMx Capture, please visit the AstroDMx Overview and Download pages.
If you have any questions or problems with the software please feel free to contact Nicola Mackin.